Peiqing Qian, M.D.
Peiqing Qian, M.D.
Specialty
Multiple Sclerosis
Clinical Interests / Special Procedures Performed
Multiple Sclerosis, Multiple Sclerosis Rehabilitation, Neuroimmunology, Neuroradiology
Accepting Children: Yes
Accepting New Patients: Yes
Accepting Medicare: Yes
Accepting Medicaid/DSHS: Yes
Insurance Accepted:
Contact this office for accepted insurance plans.
Philosophy of Care
To provide her patients guidance and support to effectively manage their conditions with better quality of life
Personal Interests
Music, culture, cooking and gardening
Medical School
Shanghai Second Medical University
Residency
Washington University School of Medicine, St Louis, MO
Fellowship(s)
Washington University School of Medicine, St Louis, MO
Board Certifications
American Board of Psychiatry and Neurology
Languages:
English, Chinese
Professional Associations:
American Academy of Neurology
Awards:
Wexler Prize and Leonard Prize for Research in MS 2011 Foundation of CMSC scholarship 2012
Optic neuritis is a common presentation of MS. Acute inflammation of the optic nerve can lead to transient swelling of the peripapillary retinal nerve fiber layer (pRNFL). Further injury of axons within the optic nerve may lead to degeneration of the retinal ganglion cell (RGC) layer within the macula. RGC layer thickness has been proposed as a measure of neurodegeneration because it is relatively resistant to confounding inflammation. A study was done to track the changes in the retinal layer during a 6-month period in 27 patients with acute optic neuritis to identify patterns of RGC layer changes.
Copaxone and the interferon betas (IFN-β) are both effective treatments for a relapsing form of multiple sclerosis (MS). A new study finds that MS patients followed over 10 years have similar annualized relapse rates (ARR) whether they take Copaxone or one of the interferon betas.

This recent study looked at 10 years of data on over 3,000 RRMS patients and found that Copaxone and IFN-β were similarly successful in reducing relapses. In the new study, researchers collected data on 3,326 RRMS patients who were using either IFN-β or Copaxone as their first-ever disease-modifying therapy (DMT) for at least 6 months, and had started treatment within 10 years of their first symptom. To be included in the study, patients also had to have had at least one relapse recorded during the two years leading up to the start of their initial DMT.

The researchers looked at ...
Women with multiple sclerosis (MS) have higher risk of relapse during the postpartum period. Can exclusive breastfeeding alone prevent relapses? How soon after delivery should disease modifying therapies (DMTs) be reintroduced? Are any DMTs safe to take while breastfeeding?

While disease modifying therapies (DMTs) have been shown generally to reduce relapse rates, none of them are indicated for use during pregnancy and lactation. Therefore, the question of when to restart DMTs postpartum remains a difficult one for physicians counseling MS patients who wish to breastfeed their children.

Trying to predict the risk of relapse for any one individual is very difficult. The risk factors for postpartum attacks include ...
No treatments can currently abate the advanced stage of the disease, known as secondary progressive MS, which gradually causes patients to become more disabled. Statins are postulated to have immunomodulatory effects that appear to be independent of their effect on cholesterol. A benefit has been suggested in early multiple sclerosis (MS) based on reduction of magnetic resonance imaging brain lesions. However, following trials have had inconsistent results.

In this multicenter, double-blind study, investigators randomized 140 participants with secondary progressive (SP) MS to 80 mg of simvastatin or placebo daily for 2 years. Participants were 18 to 65 years old, had active progression over the preceding 2 years, and had difficulties ambulating but were not wheelchair bound. Whole brain atrophy was 43% slower annually in simvastatin recipients than in placebo recipients. The simvastatin group also had small clinical improvements over placebo on the disability scale and a patient-reported MS impact scale at 24 months.

These findings show that simvastatin reduced ...
The U.S. Food and Drug Administration (FDA) has approved the three-times-a-week COPAXONE® 40mg/mL, a new dose of COPAXONE® on Jan 28, 2014. This new formulation will allow for a less frequent dosing regimen administered by injection for patients with relapsing forms of multiple sclerosis (MS). In addition to the newly approved dose, daily COPAXONE® 20 mg/mL will continue to be available.

The FDA approval is based on data from ...
MS and many other autoimmune diseases are less common in men than in women. This is especially true during reproductive years. Sex hormones, including testosterone and estrogen, may be responsible for the difference. It is thought that men with multiple sclerosis may have lower testosterone levels than healthy controls.
Dr. Bove and his group assessed the prevalence and clinical associations of hypogonadism in men with recent onset relapsing multiple sclerosis. Male subjects from the Comprehensive Longitudinal Investigations of MS at the Brigham and Women's Hospital (CLIMB) cohort were included. Hormonal measures included testosterone, the testosterone: estradiol ratio, leutinizing hormone (LH), and free testosterone. Clinical outcomes were collected every 6 months for Expanded Disease Severity Scale (EDSS), and annually for Symbol Digit Modalities test (SDMT).
The analysis included 96 men with a mean age of 40 years, disease duration of 4.6 years; 71% subjects were untreated at baseline. Of these men, 39% were ...
Offices
Multiple Sclerosis Center
1600 East Jefferson
A Level
Seattle
,
WA
98122
Phone:
206-320-2200
Fax:
206-320-2560
Map & Directions
---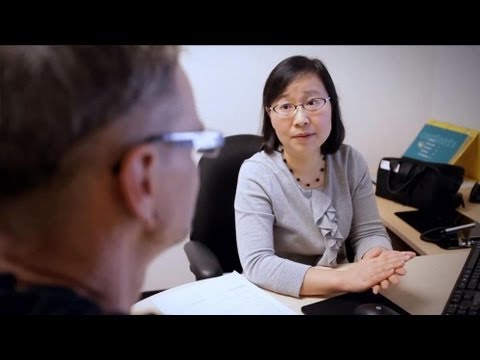 Watch Video
Play
Affiliations
This provider is affiliated with: