Evan S.K. Ong, M.D., M.S.,FACS
Evan S.K. Ong, M.D., M.S.,FACS
Specialty
General Surgery
Clinical Interests / Special Procedures Performed
Abdominal Surgery, Anal Cancer, Anal Surgery, Cancer Surgery, Cholecystectomy (Gallbladder), Cholecystectomy (Laproscopic), Colon Cancer, Colon Cancer Dx, Colorectal Cancer, Colorectal Surgery, Endocrine Surgery, Endoscopy, Esophogastroduodenoscopy (EGD), Gall Bladder Surgery, Gallstone Disorders, Gallstone Dx, Gastro-Esophageal Junction, Gastrointestinal, Gastrointestinal Cancer, Gastrointestinal Endoscopy, Gastrointestinal Surgery, General Surgery, Hepatic Surgery, Hepatobiliary, Hepatocellular Carcinoma, Hernia (Laparoscopic), Hernia Repair, Hernia Repair/Outpatient, Hernia Surgery, Hospice Care, Laparoscopic Surgery, Laparoscopy, Liver Disease, Liver Dx, Liver Surgery, Liver Surgery (Laparoscopic), Liver Tumor Ablation, Microwave/Ultrasd. CA treatmnt, Minimally Invasive Procedures, Minimally Invasive Surgery, Oncology, Palliative Care, Pancreatabiliary Systems, Pancreatic Cancer DX, Pancreatic Cancer TX, Pancreatic Conditions, Pancreatic Dx, Pancreatic Surgery, Pancreatitis, Peg Tube Insertion, Pelvic Surgery, Peptic Ulcer Dx, Radiofrequency Ablation, Rectal Cancer, Sarcoma, Schwannoma, Soft Tissue Pathology, Soft Tissue Sarcomas, Surgery, Surgical Pathology, Swedish Cancer Institute
Accepting Children: No
Accepting New Patients: Yes
Accepting Medicare: Yes
Accepting Medicaid/DSHS: Yes
Insurance Accepted:
Contact this office for accepted insurance plans.
Philosophy of Care
"Qui Audet...Cura."-"Who Dares...Cures."
Medical School
Albert Einstein College Of Medicine, Bronx, NY
Residency
University Of Ilinois at Chicago Medical Center, Chicago, IL
Fellowship(s)
Surgical Oncology, Roswell Park Cancer Institute, Buffalo, NY
Board Certifications
General Surgery, American Board of Surgery, Fellow, American College of Surgeons, American Board of Hospice and Palliative Medicine
Languages:
Spanish
Publications/Chapters/Reviews
1. Ong E. Neural Pathways of Acupuncture Analgesia. Harvard Brain. 1994 Spring: 1(1):3-4. Non-peer reviewed.
2. Greenstein SM, Kim D, Principe A, Ong E, Chin W, Glicklich D, Schechner R, Tellis V. Renal transplantation in a heterogeneous population: the thirty- year Montefiore Medical Center experience. Clin Transpl. 1998:187-93.
3. Greenstein SM, Delrio M, Ong E, Feuerstein D, Schechner R, Kim D, Corey H, Kaskel R, Tellis VA, Moritz ML. Plasmapheresis treatment for recurrent focal sclerosis in pediatric renal allografts. Pediatr Nephrol. 2000 Oct;14(12):1061-5.
4. Espat NJ, Ong E, Helton WS. Intra-operative Laparoscopic and Ultrasound Assessment of Resectability for Hepatic Resection. Operative Techniques in General Surgery 2002;4(1):3-12. Non-peer reviewed.
5. Babcock TA, Novak T, Ong E, Jho DH, Helton WS, Espat NJ. Modulation of lipopolysaccharide-stimulated macrophage tumor necrosis factor-alpha production by omega-3 fatty acid is associated with differential cyclooxygenase-2 protein expression and is independent of interleukin-10. J Surg Res. 2002 Sep;107(1):135-9.
6. Ong E and Espat NJ. Gastric Adenocarcinoma. Pocket General Surgery 1st Ed. 2003.
7. Ong E, Helton WS, Espat NJ. Operative Experience of U.S. General Surgery Residents: Liver and Pancreas 1989-2001. Journal of Gastrointestinal Surgery. 2003 Feb;7(2):311. Published abstract.
8. Ong ES, Gao XP, Xu N, Predescu D, Rahman A, Broman MT, Jho DH, Malik AB. E. coli pneumonia induces CD18-independent airway neutrophil migration in the absence of increased lung vascular permeability. Am J Physiol Lung Cell Mol Physiol. 2003 Oct;285(4):L879-88. Epub 2003 Jun 20.
9. Ong E, Espat NJ, Helton WS. Hepatic Abscess. Current Treatment Options in Infectious Diseases. 2003 Sep;5(5):393-406. Non-peer reviewed.
10. Espat NJ, Ong ES, Helton WS, Nyhus LM. 1990-2001 US general surgery chief resident gastric surgery operative experience: analysis of paradigm shift. J Gastrointest Surg. 2004 May-Jun;8(4):471-8.
11. Jho DH, Engelhard HH, Gandhi R, Chao J, Babcock T, Ong E, Espat NJ. Ciliary neurotrophic factor upregulates ubiquitin-proteasome components in a rat model of neuronal injury. Cytokine. 2004 Sep 21;27(6):142-51.
12. Ong E, Espat NJ, Helton WS. Hepatic Abscess. Surgical Decision Making- Fifth Edition, 2005.
13. Ong E. My Bushido's Code to a Healthy Surgical Lifestyle. Current Surgery. 2005 March/April; 62(2): 239.
14. Ong E, Gao XP, Predescu D, Broman M, Malik AB. Role of phosphatidylinositol 3-kinase-gamma in mediating lung neutrophil sequestration and vascular injury induced by E. coli sepsis. Am J Physiol Lung Cell Mol Physiol. 2005 Dec;289(6):L1094-103. Epub 2005 Sep 23.
15. Ong ES, Poirier M, Espat NJ. Hepatic intra-arterial chemotherapy. Ann Surg Oncol. 2006 Feb;13(2):142-9. Epub 2006 Jan 18. Review.
16. Ong ES, Helton WS, Jho D, Espat NJ. SURGISIS-assisted surgical site control in the delayed repair of a complex bile duct injury after laparoscopic cholecystectomy. J Gastrointest Surg. 2006 Feb;10(2):202-6.
17. Sharif S, Broman M, Babcock T, Ong E, Jho D, Rudnicki M, Helton WS, Espat NJ. A priori dietary omega-3 lipid supplementation results in local pancreatic macrophage and pulmonary inflammatory response attenuation in a model of experimental acute edematous pancreatitis (AEP). JPEN J Parenter Enteral Nutr. 2006 Jul-Aug;30(4):271-6.
18. Ong E and Espat NJ. Bile Secretion. Surgery of the Liver, Biliary Tract and Pancreas- Fourth Edition. Blumgart LH. 2007.
19. Jho DH, Jho DJ, Chejfec G, Ahn M, Ong ES, Espat NJ. Primary biliary B-cell lymphoma of the cystic duct causing obstructive jaundice. Am Surg. 2007. May;73(5):508-10.
20. Ong ES, Alassas M, Dunn KB, Rajput A. Colorectal cancer surgery in the elderly: acceptable morbidity? Am J Surg. 2008 Mar;195(3):344-8; discussion 348.
21. Ong ES, Alassas MA, Bogner PN, Bullard Dunn K, Chey WY, Gibbs JF. Total gastrectomy for gastric dysplasia in a patient with attenuated familial adenomatous polyposis syndrome. J Clin Oncol. 2008 Jul 20;26(21):3641-2.
22. Brovkovych V, Gao XP, Ong E, Brovkovych S, Brennan ML, Su X, Hazen SL, Malik AB, Skidgel RA. Augmented inducible nitric oxide synthase expression and increased NO production reduce sepsis-induced lung injury and mortality in myeloperoxidase-null mice. Am J Physiol Lung Cell Mol Physiol. 2008 Jul;295(1):L96-103. Epub 2008 Apr 18.
23. Jarzembowski TM, Sankary HN, Bogetti D, Manzelli A, Ong E, Oberholzer J, Benedetti E, Testa G. Living Donor Liver Graft Salvage after Rupture of Hepatic Artery Pseudoaneursym. International Surgery. 2008 Sep-Oct; 93(5): 300-3.
24. Hansen AJ, Augenstein J, Ong ES. Large Subcapsular Liver Hematoma Following Single-Incision Laparoscopic Cholecystectomy. JSLS. 2011 Jan-March; 15 (1): 114-116.
25. Chi A, Jang S, Welsh J, Nguyen N, Ong E, Gobar L, Komaki R. Feasibility of Helical Tomothraphy in Sterotactic Body Radiation Therapy for Centrally Located Early Stage Non-small Cell Lung Cancer or Lung Metastases. Int J Radiat Oncol Biol Phys. 2011 Jan 19.
26. Alejandro Garcia-Uribe, Cheng-Chung Chang, Murat Kaya Yapici, Jun Zou, Member, IEEE, Bhaskar Banerjee,Garcia-Uribe A, Chang C, Yapici M, Kuczynski J, Ong E, Marner E, Wang L, High-Transmission -Efficiency and Side-Viewing Micro OIDRS Probe for Fast and Minimally Invasive Tumor Margin Detection. IEEE Sensor Journal, 2011 April 11(4): 891-6.
27. Zimmerman H, Latifi R, Dehdashti B, Ong E, Jie T, Galvani C, Waer A, Wynne J, Biffar D, Gruessner R, Intensive laparoscopic training course for surgical residents: program description, initial results, and requirements. Surgical Endoscopy; 2011 Nov;25(11):3636-41. Epub 2011 Jun 4.
28. Cueto CV, Szeja S, Wertheim BC, Ong ES, Tsikitis VL. Disparities in Treatment and Survival of White and Native American Patients with Colorectal Cancer: A SEER Analysis. J Am Coll Surg, 2011 Jun 29 Epub.
29. Rose J, Jie T, Usera P, Ong ES. Pancreaticoduodencetomy for Primary Pancreatic Lymphoma. Gastrointest Cancer Res. 2012; 5 (1): 23-24.
30. Konstantantinidis IT, Young C, Tsikitis VL, Lee EM, Jie T, Ong E. Cytoreductive Surgery and Hyperthermic Intraperitoneal Chemoperfusion: The University of Arizona Early Experience. World J Gastrointest Surg. 2012;. 4 (6): 135-40
31. Amini A, Patanwala AE, Maegawa F, Skepnek GH, Jie T, Gruessner RW, Ong E. Effect of Epidural Analgesia on Postoperative Complications Following Pancreaticoduodenectomy. J Am Coll Surg, 2012 December (accepted).
32. Ong E, Diven C, Abrams A, Lee E, Mahadevan D. Laparoscopic Hyperthermic Intraperitoneal Chemotherapy (HIPEC) for Malignant Ascites from GIST. (accepted) JOPC
33. Lee E, Jones C, Ong E. Single-Incision Sleeve Gastrectomy for successful treatment of a gastrointestinal stromal tumor. (accepted) JSLS
34. Chi A, Nguyen NP, Xu J, Ji M, Tang J, Jin J, Ong ES, Welsh JS. Correlation of small bowel dose and acute lower GI toxicity in postoperative pelvic intensity-modulated radiotherapy for endometrial cancer: 3 different approaches of small bowel delineation. Technol Cancer Res Treat 2012 Aug :11(4):353-9
35. Adamas-Rappaport W, Benjamin MA, Teeple MK, Glazer ES, Sozanski J, Waer A, Poskus D, Ong E. A comparison of Unguided versus Guided Case-Based Instruction on the Surgery Clerkship. (accepted) J Surg Res
36. Kaplan SJ, Carroll JT, Chuu A, Nematollahi S, Adamas-Rappaport W, Ong E. Utilization of a Non-Preserved Cadaver to address deficiencies in Technical Skills during the third year of medical school. (accepted) World J Surg.
37. Turaga K, Levine E, Barone R, Sticca R, Petrelli N, Lambert L, Nash G, Morse M, Abdel-Misih R, Alexander HR, Attiyeh F, Bartlett D, Bastidas A, Blazer T, Chu Q, Chung K, Dominguez-Parra L, Espat NJ, Foster J, Fournier K, Garcia R, Goodman M, Hanna N, Harrison L, Hoefer R, Holtzman M, Kane J, Labow D, Li B, Lowy A, Mansfield P, Ong E, Pameijer C, Pingpank J, Quinones M, Royal R, Salti G, Sardi A, Shen P, Skitzki J, Spellman J, Stewart J and Esquivel J. Consensus Guidelines from The American Socity of Peritoneal Surface Malignancies on Standardizing the Delivery of Hyperthermic Intraperitoneal Chemotherapy (HIPEC) in Colorectal Cancer Patients in the United States. Annals of Surg Onc. June 2013.
38. Nielsen VG, Nfonsam VN, Matika RW, Ong ES, Jie T, Warneke JA, Steinbrenner EB. Colon and Pancreas Tumors Enhance Plasma Coagulation Kinetics: Role of Hemeoxygenase-1. (submitted) June
---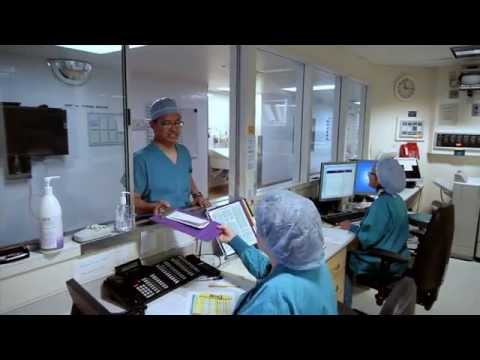 Watch Video
Play
Affiliations
This provider is affiliated with: