Dan Steven Veljovich, M.D.
Dan Steven Veljovich, M.D.
Specialty
Gynecologic Oncology, Gynecology, Robotic Surgery
Clinical Interests / Special Procedures Performed
Abdominal Surgery, Abnormal Pap Smears, Bilateral Salpingo-Oophorectomy (Laparoscopic), Bilateral Salpingo-Oophorectomy (Robotic), Blood Management Techniques, Bloodless Surgery, Cancer Institute, Cancer Screening, Cancer Surgery, Cervical Cancer, Cervix Dysplasia, da Vinci (Robot-Assisted Surgery), Dilatation & Curettage (D & C), Dysplasia, Endometrial Bx & Aspiration, Endometrial Cancer, Endometriosis, Female Urology, Genital Warts, GYN Reconstructive Surgery, Gynecologic Cancer Surgery (Robotic), Gynecologic Pathology, Gynecological Surgery, Gynecological Surgery (Robotic), Hysterectomy, Hysterectomy (Laparascopic Supracervical), Hysterectomy (Robotic), Hysterectomy Total (Laparascopic), Hysterectomy Vaginal (Laparoscopic-assisted), Incontinence (Female), Laparoscopic Surgery, Laparoscopy, Loop Electrical Excisional Procedure, Minimally Invasive Procedures, Minimally Invasive Surgery, Office Surgery & Procedures, Oncologic Surgery, Oncology, Ovarian Cancer, Ovarian Cyst Removal, Pelvic Floor Problems, Pelvic Organ Prolapse, Pelvic Prolapse, Pelvic Support Problems, Pelvic Surgery, Prolapse, Sacrocolpopexy (Robotic), Stress Incontinence (Females), Urinary Incontinence, Vaginal Hysterectomy, Vaginal Surgery, Women's Health
Accepting Children: Yes
Accepting New Patients: Yes
Accepting Medicare: Yes
Accepting Medicaid/DSHS: Yes
Payment Methods Accepted:
Bill Insurance, VISA, Master Card, Cash, Check
Insurance Accepted:
Contact this office for accepted insurance plans.
Additional Information:
Seattle Magazine's "Top Doctors for Women", 2003
Philosophy of Care
My goal as a surgeon and oncologist is to maximize the chances of cure and remission while attempting to preserve the patient's quality of life and dignity as much as possible through the process by utilizing proven, effective therapies and emphasizing a minimally invasive robotic approach to surgery whenever feasible and possible. To provide a level of care I would want for my own family members entails a strong commitment to my profession, compassion towards my patients, and a passion for lifelong learning which allows me to stay ahead of the curve on medical and surgical therapies of cancer and complex gynecological problems.
Personal Interests
Snowboarding, running, travelling with my family, seeing our National Parks, coaching soccer and being with my 3 kids and wife.
Medical School
University of Virginia
Residency
University of Virginia
Fellowship(s)
University of North Carolina
Board Certifications
Diplomate, American Board of Obstetrics and Gynecology
Languages:
English, Some Medical Spanish
Professional Associations:
Society of Gynecologic Oncologists, American College of Obstetrician/Gynecologists, Seattle Gynecological Society, Pacific Coast OB/GYN Society, American Medical Association
Awards:
President, Seattle Gynecological Society, Top Doc for Women Seattle Magazine, Golden Stethescope Award Seattle Metropolitan Magazine
Additional Information:
Seattle Magazine's "Top Doctors for Women", 2003
Sentinel Lymph Node Dissection in Endometrial Cancer (ongoing trial at Swedish)
Combined weekly topotecan and biweekly bevacizumab in women with platinum-resistant ovarian, peritoneal, or fallopian tube cancer: results of a phase 2 study. Cancer 2011 Aug 117(16):3731-40.
Surgical Outcomes in gynecologic oncology in the era of robotics: analysis of first 1000 cases. Am J Obstet Gynecol 2011 Jun 204(6):551.
Treatment of recurrent of platinum-refractory ovarian, fallopian tube or primary peritoneal cancer with gemcitabine and topotecan: a phase II trial of Puget Sound Oncology Consortium. Gynecol Oncol 2008 Aug 110(2): 146-51.
Robotic surgery in gynecologic oncology: program initiation and outcomes after the first year with comparison with laparotomy for endometrial cancer staging. Am J Obstet Gynecol 2008 Jun 198(6): 679.
Offices
---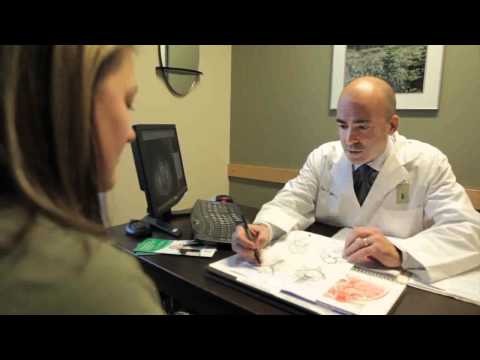 Watch Video
Play
Affiliations
This provider is affiliated with: